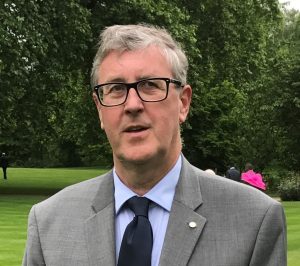 I have lived in Alcester with my wife Kay since 1991 and yet still consider myself a 'new boy'. We have two adult daughters who attended local schools.
I have worked as a tax accountant in Stratford upon Avon for many years, enjoying the constant challenge brought by ever changing legislation.
Becoming a member of Alcester Town Council in July 2019, I serve on the Planning and Community Care committees. I served as High Bailiff of Alcester in 2014/15 and as President of Alcester and Bidford Rotary for 2018/19 and 2019/20. I am also a trustee and treasurer of Alcester War Memorial Town Hall and a trustee of Newport Schools Foundation.
I enjoy being involved in community projects and working with different organisations to support worthwhile causes. I am keen to help ensure that Alcester continues to be the great town in which I have enjoyed living for many years.
At the Annual Meeting on 3 May 2022, I was elected Deputy Mayor for 2022-23.
Contact Vaughan on: 01789 764128 
Email: vblake.atc@gmail.com