Regulation 14 Pre-Submission Consultation
In accordance with Regulation 14 Neighbourhood Planning (General) Regulations 2012 the formal pre-submission period of public consultation ran from 29th September – 16th November 2018 for the Alcester Neighbourhood Development Plan. In addition to drop-in sessions, a questionnaire was delivered to all households and businesses.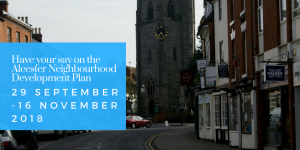 Following responses to the public consultation in the autumn, and actions agreed by the Steering Group, the NDP has been amended and sent to the Planning Consultant. He will now draft the Basic Conditions Statement prior to submission of the NDP to Stratford on Avon District Council.
1709 Summary of comments- Emerging Policies
1709 Analysis Table Emerging Policy Document
1709 NDP Emerging Policies Document September 2017
1709 Alcester Housing Needs Survey Report September 2017
1707 Alcester Housing Needs Survey form July 2017
1701 Infrastructure- Parking forum January 2017
1506 ANDP Household questionnaire results Summer Newsletter 2015
1503 Our Alcester Household questionnaire
1501 Older Persons questionnaire
1411 Our Alcester Schools questionnaire
1411 Where we are now leaflet- November 2014
1410 Our Alcester Business questionnaire
1408 Our Alcester Roadshow poster
1406 Where we are now leaflet- June 2014