Regulation 14 Pre-Submission Consultation
In accordance with Regulation 14 Neighbourhood Planning (General) Regulations 2012 the formal pre-submission period of public consultation is now open for the Alcester Neighbourhood Development Plan. This will run from 29th September 2018 until 16th November 2018.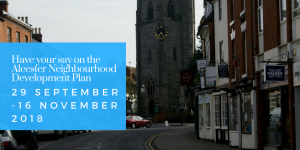 For further details on the consultation and how you can respond- please see the main Neighbourhood Development Plan page.