Public Consultation on the Neighbourhood Development Plan (2014- 2017)
Regulation 14 Pre-Submission Consultation 2018
In accordance with Regulation 14 Neighbourhood Planning (General) Regulations 2012 the formal pre-submission period of public consultation ran from 29th September – 16th November 2018 for the Alcester Neighbourhood Development Plan. In addition to drop-in sessions, a questionnaire was delivered to all households and businesses.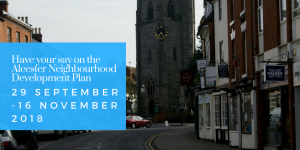 20.Issues v Objectives Matrix 140818
21.Alcester NDP- Collated responses to Regulation 14 Consultation
22. Alcester NDP Summary Document
Regulation 16 Consultation- Draft Plan 2019
This is a public consultation undertaken by Stratford on Avon District Council. The Submission version of the NDP together with various other documents was submitted to Stratford on Avon District Council under Regulation 15 on 10 April 2019. SDC concluded the Regulation 16 consultation on 12 July 2019, comments were collated by SDC and the draft NDP documentation has now been sent to the Examiner.