Alcester is an old market town of Roman origin at the junction of the River Alne and the River Arrow in Warwickshire, England. It is situated approximately 8 miles (13 km) west of Stratford-upon-Avon and 8 miles south of Redditch, close to the Worcestershire border.
For more on the History of Alcester, click here
Whether you are a visitor of a resident, the latest Alcester Town Guide is full of useful information. Copies can be found in many local businesses and also at the Library.
Latest News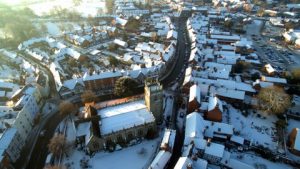 Please take care at the moment- paths are very slippery especially when icy….and the rain seems to have made it worse!
If you have elderly or disabled neighbours it would be very kind to call in and check they are alright!
Another fantastic weekend of festive events in Alcester….all at St Nicholas Church:
Saturday 16 December Alcester Singers Concert 7.30pm
Sunday 17 December Town Carol Service 6.30pm
Monday 18 December Alcester Victoria Silver Band 7.30pm
Good news for Alcester Town Council! Did you know we have been awarded the Fields in Trust Partner of the Year 2017? 
Will you be alone on Christmas Day? If so, please join us for the Alcester Community Christmas Day dinner! For more information see the Health & Wellbeing page
Upcoming 2018 dates for your diary! Mayor's Charity events:
Wednesday 17 January – Romna- Celebrating 35 years in Alcester
Friday 16 February Irish evening- Jubilee Centre