Alcester is an old market town of Roman origin at the junction of the River Alne and the River Arrow in Warwickshire, England. It is situated approximately 8 miles (13 km) west of Stratford-upon-Avon and 8 miles south of Redditch, close to the Worcestershire border.
Find out more about the History of Alcester
Whether you are a visitor or a resident, the latest Alcester Town Guide is full of useful information. The Alcester Directory (currently being updated) contains a comprehensive list of activities and organisations together with contact details. Hard copies available from our office, many local businesses and also at the Library.
Latest News
Stratford on Avon District Council recently carried out a consultation to gather information from businesses across the district about their current position and to ascertain what effect the Covid-19 pandemic and associated lockdowns had had on businesses. This information will be used by Stratford-on-Avon District Council in planning short and longer-term policies to support business in the district. Survey results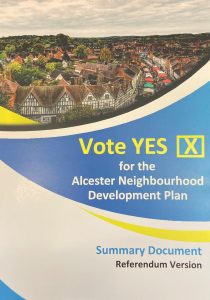 Alcester Neighbourhood Development Plan passed referendum! Thank you for your vote!
Stratford on Avon District Council now need to adopt the NDP and then they can use it to help them make planning decisions in Alcester parish. We shall also be in receipt of a greater amount of the Community Infrastructure Levy.
Congratulations to Councillor Kathryn Cargill on becoming Mayor of Alcester last night. An exciting and challenging year ahead!
Councillor Tim Forman was elected Deputy Mayor.
Alcester Town Council is delighted to announce that it has completed a lease of The Greig Hall in Alcester.  To find out more check out the dedicated website.
******
Public notice re: Covid- 19 at 29 March 2021 We are pleased to announce that the Town Council offices have reopened. Our opening hours are 9 am to 1 pm Monday to Friday. Visitors are only permitted by prior appointment. Please telephone 01789 766084 or email clerk@alcester-tc.gov.uk
With effect from 1 June 2021, Full Council meetings will be held at the Eric Payne Community Centre.  Committee meetings will be held as advisory committees with decisions ratified at Full Council and will be held by by Zoom.
*****
Please see separate page for COVID-19 info