Alcester is an old market town of Roman origin at the junction of the River Alne and the River Arrow in Warwickshire, England. It is situated approximately 8 miles (13 km) west of Stratford-upon-Avon and 8 miles south of Redditch, close to the Worcestershire border.
For more on the History of Alcester, click here
Whether you are a visitor of a resident, the latest Alcester Town Guide is full of useful information. A new Alcester Directory has also been compiled containing activities and information. Hard copies can be found in many local businesses and also at the Library.
Latest News
In accordance with new regulations from the Government, it was confirmed at the Full Council meeting on 5 May, that the Mayor, Cllr Gill Forman and the Deputy Mayor, Cllr Kathryn Cargill will remain in post for the Town Council year 2020-21.
The Annual Report of the Town Council for 2019-20
The Town Council was delighted to receive a grant of £3200 from the Heart of England Community Foundation. This very generous donation is being used to fund a hot meals service to provide 125 meals per week to vulnerable residents in Alcester.  Meals are being prepared by Mandy Downes at Pantry Ann's and delivered by a team of lovely volunteers.
With grateful thanks to HOECF and the National Emergencies Trust.
@HOECF @NatEmergTrust @PantryAnns #NETCoronavirusAppeal    #InThisTogether
Please see separate page for COVID-19 info
Alcester Town Council made history on Tuesday 14 April 2020 when it held its first "virtual" Town Council meeting using Zoom software.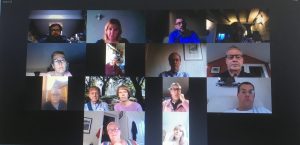 This meeting was made possible by new legislation passed by the government as a result of the Covid-19 crisis.
The meeting was chaired by Cllr Gill Forman, the Mayor of Alcester and the main focus of the meeting was to discuss the ongoing Alcester Community Resilience effort.
The next Town Council meeting will be held on Tuesday 5 May 2020 at 7 pm.
All Town Council meetings are open to the public.
Anyone wishing to participate remotely using Zoom software or ask questions should contact the Town Clerk on clerk@alcester-tc.gov.uk before 2pm on Monday 4 May to obtain further details.
Notice – 24 March 2020 re COVID-19
The Town Council offices are now closed until further notice.
In accordance with government advice, Town Council staff are working from home.
In line with government legislation, Full Council meetings will be held remotely (Zoom meeting).
Committee meetings have been cancelled with the exception of the Planning Committee who are reviewing planning applications by email meeting.
If you have an enquiry for the Town Council, please phone 01789 766084 (we can pick up messages remotely) or email clerk@alcester-tc.gov.uk and we will respond as soon as we can.
If you need practical help please call Alcester Community Resilience on 07707 598379 or email alcester.response@outlook.com