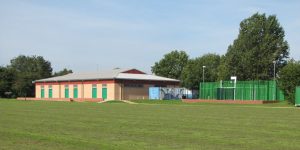 The Eric Payne Community Centre (formerly the Jubilee Centre) is a community building, located on the Jubilee Fields off St Faiths Road B49 6AG.  The access road to the Centre is immediately after the boundary of Our Lady's Catholic Primary School.
The centre is owned and managed by Alcester Town Council to provide a multi-function community facility for the town. The building consists of two large air-conditioned function rooms and a small Wellbeing Room. All rooms benefit from High Efficiency Particulate Air (HEPA) cleaning units to improve ventilation and air quality. Free wifi is available and there is a hearing loop in the Hertford Room.
Each room has its own identity and regular user groups. Both main rooms are available for hire by individuals, groups or businesses and are ideal for seminars, group meetings, classes, talks, christenings, children's parties, wedding anniversaries etc. The established customer base, which endeavours to support all demographics of the community, consists of a variety of groups and societies.
The Government announced on 21 February that Plan B restrictions would be lifted on
24 February. Full details are here: COVID-19 Response: Living with COVID-19. The
guidance for individuals has been updated: Coronavirus: how to stay safe and help
prevent the spread.
COVID Secure Preparations:
Working within government guidelines and having taken advice from ACRE (a registered charity which acts on behalf of the thirty-eight member groups who make up England's rural community network) and our insurers, Aviva, we made the following preparations to open the centre safely:
1. Carried out a Covid-19 Risk Assessment and taken action to mitigate the risks identified
2. Drafted Supplementary terms and conditions of hire which spell out the hirer's Covid-19 responsibilities (See full Ts & Cs below)
3. Agreed a cleaning schedule with our cleaner, along with maintaining a cleaning log
4. Given the centre a deep clean- to be undertaken on a weekly basis
5. Installed hand sanitising dispensers at the entrance to the centre, Hertford Room and Depot as well as exits and other locations throughout the centre
6. Identified the Wellbeing Room as the Isolation Room (Hertford Room users).
7. Implemented one way signage which you are still encouraged to use
9. Displayed health and safety signage with respect to social distancing, hand washing and other Covid security measures which we would encourage you to use
10. Displayed health and safety signage with respect to face coverings.
11. Encourage doors to be opened for ventilation. The entrance doors (fire doors) to the Hertford Room can be left open using the automatic door closer system which activates in the event of a fire
Other useful COVID Secure docs:
Guidance on how to keep the centre
Covid Secure
as well as some separate practical tips. This latter document (Guidance for Hirers/User groups) is in both
written
and
pictorial
format.
Protocol for what to do if someone becomes unwell (Treatment plan)- depending on whether you are in the
Depot
or the
Hertford
Room, the contents of the
Covid 19 First Aid Box
(kept in the Wellbeing Room- for more info see p7 of the risk assessment) and
cleaning
afterwards.
Capacity
The Hertford Room has a ground floor area of 180m2 (maximum capacity 250 people)
The Depot has a ground floor area of 120m2 (maximum capacity 200 people)
Please speak to the Centre Administrator on 01789 766084 during office hours or email alcester.jubileecentre@gmail.com for more detailed information. Meanwhile to give an indication the approximate room capacities are:
Hertford Room
Theatre style- capacity 130 people
Cafe style with casual tables and chairs- capacity 100 people
The Depot
Theatre style-capacity 100 people
Cafe style with casual tables and chairs- capacity 64 people
Hire rates
Hirings are generally charged per session and will fall under one of two basic pricing structures: a standard booking rate and a second rate that is exclusively for Alcester community organisations.
All bookings must fully incorporate the time that the room is being used. This should include set up and clear up time.
All charges include 20% VAT and are subject to review.
There are three sessions:
Morning          9am – 1pm
Afternoon       1pm – 6pm
Evening           6pm – 10.30pm (there is an additional charge for a late finish)
Full day            9am – 10.30pm
The Standard Rate is as follows:
Hertford Room/The Depot                                      £72 per session
Full day rate                                                           £204
The room hire must be paid no later than 14 days prior to your event- ideally by BACS.
​The Community Rate will be applicable to any booking made by a not for profit community groups run for Alcester residents:
​Hertford Room/The Depot                                             £30 per session
Full day rate                                                                  £102
For an additional fee, use of crockery, cutlery, glasses, audio visual equipment, a later finish time and in the Hertford Room a room divider can be arranged.  The charges are as follows:
Hire of crockery/cutlery/glasses (one off fee)                   £12
Hire of audio/projector equipment (one off fee)                £21
Hertford Room – Room Divider (one off fee)                    £12
Late finish (one off fee)                                                     £30
To hire the Wellbeing Room please contact the Centre Administrator for hire charge information on alcester.jubileecentre@gmail.com
How to book
To make a booking, please use the Hallmaster system. Select the room you are looking for and select the View Room Availability link. Click the plus sign (+) on the corner of the day you are looking for and complete the registration form to make a booking request.  Once your booking is submitted, you will receive an email acknowledgement. Your booking will then be verified by the Centre Administrator and you will receive email confirmation.
To read the full Hire Agreement, Terms and Conditions of Hire & Privacy Notice, as well as our useful Information Sheet, please see the links below:
EPCC Hire Agreement, Terms & Conditions of hire, Safeguarding Policy and & Privacy Notice 2022
EPCC Information sheet (includes End of Hire Checklist)
In the unlikely event that you do not receive a response to any communication within 5 days, please telephone 01789 766084.
Temporary Event Notice (TEN)
It is the responsibility of the hirer to ensure compliance with any licence requirements. For permitted temporary activities, a TEN may be required by Stratford on Avon District Council .