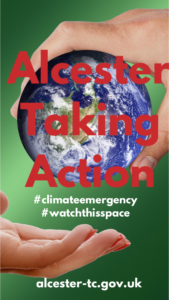 Alcester Town Council recently declared a Climate Emergency in line with hundreds of Town and Parish Councils across the UK.
The Town Council is in the process of forming a Climate Action Group made up of local organisations and residents who may wish to take part in planning for community action.
Climate Action Group met on Tuesday 12 July at the Eric Payne Community Centre. They were joined by Susan Juned who is one of our Stratford District Councillors. Cllr Juned has many years of experience in planning for Climate Action in local communities. Residents were welcome to come along to discuss concerns and contribute ideas for local action.
Things you can do in summer to reduce winter energy bills– Tips you can follow now to save on energy in the colder months.
Are you (or someone you know) worried about the rising cost of energy bills?
Act on Energy is a charity partnering with Local Authorities to offer FREE support to everyone living in Warwickshire, Worcestershire, Coventry, Solihull, and Birmingham.
Thank you for your interest in what we do regarding Climate Change Action in Alcester. By signing up to our mailing list you agree to receive communication by email with information of action planning, upcoming meetings, minutes and activities around Alcester regarding Climate Change Actions.
BY SUBSCRIBING YOU ARE CONFIRMING THAT YOU HAVE READ and ACCEPTED the Town Council Privacy Notice
Please contact Cllr Kathrin Foster kfoster.atc@gmail.com or Cllr Steve Blackman sblackman.atc@gmail.com for further information.